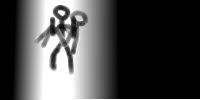 after a really relaxed, pleasant weekend spent reading, watching the telly
*
, and sleeping, singer and i came past my place, picked up the kid, and the three of us went to see
the jews
(
hayehudim
) in concert. our previous TL and a friend joined us, and it was a solid performance.
about halfway through (it was a three-hour performance), singer complained of her back hurting (it's been giving her trouble the last week), so i gave her a massage. i don't know if i pressed something i shouldn't have (she told me later that just at that moment her back actually felt
good
), but she turned around to me and muttered "i don't feel so good" - before fainting clean away.
when she came around i moved her to the back of the venue, then to the women's bathroom, then outside, then next to the ambulance. the paramedics advised against taking her to the hospital, but i've never seen anyone take so long to recover from fainting. then again, i'm more-or-less used to fainting (postural low blood-pressure), so it only takes me a minute or so to get myself together.
eventually, when the concert was over, we took a taxi about 200m (NIS 15, the bastard) to a place where our previous TL could pick us up, and she only really began feeling better just as we arrived at her place.
after walking her to the clinic, i've come home to shower and brush my teeth, pick up my gear and go back to resume the holiday.
*
a bunch of
the wonder years
episodes,
star wars ii - attack of the clones
, and
young guns
(all in reverse order). the fifth
star wars
wasn't as bad as i'd expected, but i find it sad that since the seventies so much mythology has been built up by fans around the first three movies and lucasfilms went ahead with a load of crap without consulting the community.
just because it's not a traditional resource for film-making doesn't mean it can't be done.