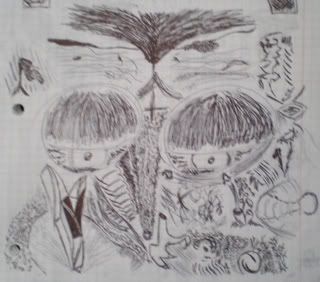 the twins: click to enlarge
the kid made really good dinner, and we both ate too much. on the way to eatliz, in the intensely disgusting humidity i suddenly felt ill, exhausted and on the verge of collapse. this feeling continued until
jaguar superfiction
began the warmup for
eatliz
. they were simply brilliant, and apparently the
eatliz
crew thinks so too. the main performance was superb as usual, and the new songs have me waiting for the next album to debut!
ran into my old math lecturer at the concert - didn't get a chance to talk to him, though. pity, he really did a good job with me in my final year, it's thanks to him and our constant fighting in class that i scored 100% and actually
enjoyed
myself.
i'm almost done packing, but i haven't done a damn thing as far as the projects i needed to complete are concerned. i need another weekend.